Bentley Continental GTC V8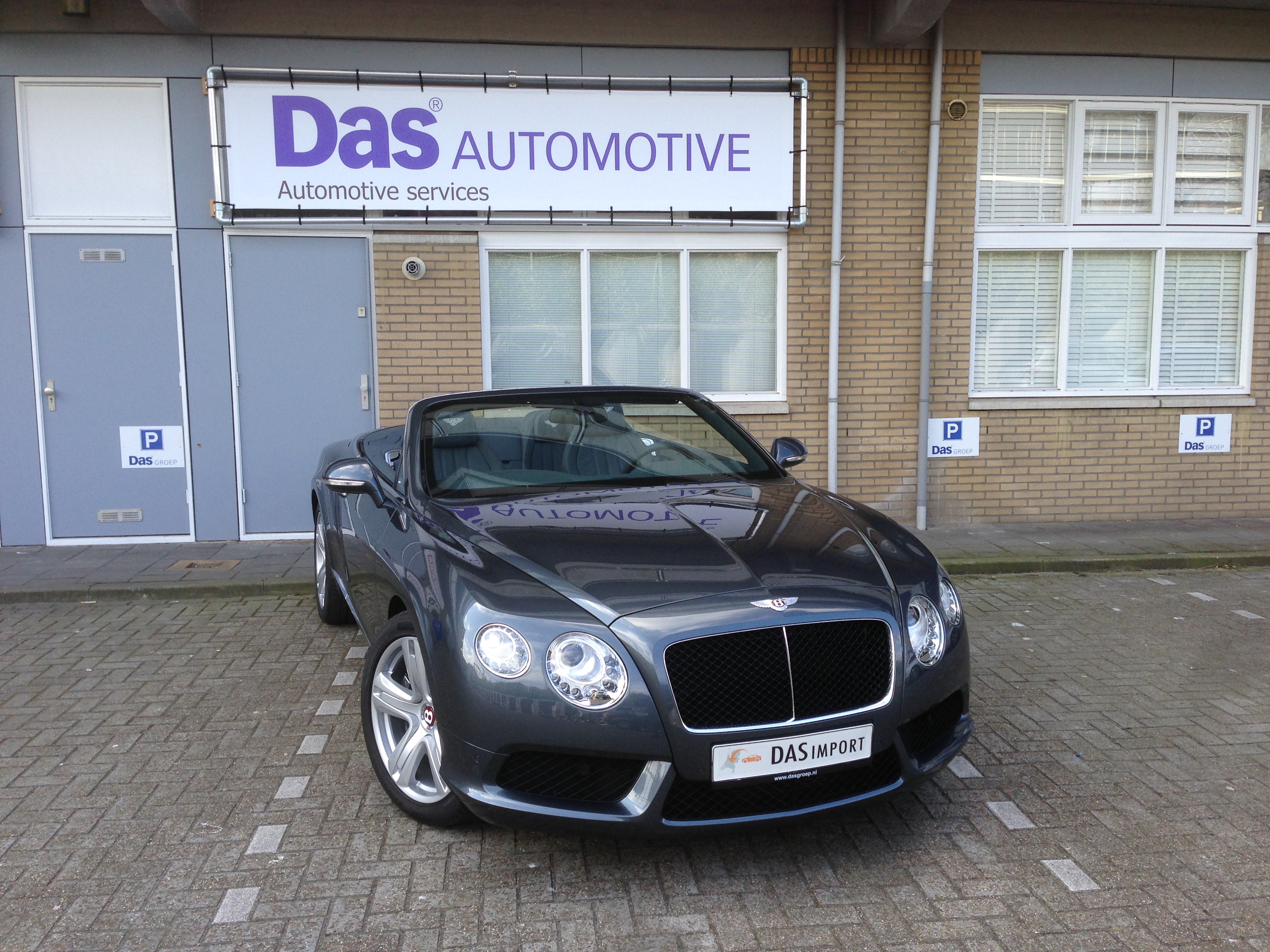 Een auto kopen in Duitsland is erg populair onder Nederlanders. Steeds meer mensen vinden de weg naar Duitsland voor een jonge Duitse occasion. De op deze pagina omschreven Bentley Continental GTC V8 van 1/2013 met een nieuwprijs van €230.417 en 3.000 kilometer op de teller heeft Das Auto Import 01-04-2013 geïmporteerd uit Duitsland voor €193.560 inclusief BPM en BTW.

Deze Bentley Continental GTC 4.0 V8 hebben wij in april 2013 ingevoerd en op Nederlands kenteken afgeleverd.
Nederlandse nieuwwaarde EUR 230.417
Prijs na import EUR 193.560 (Incl. BTW en BPM)
Op deze import Bentley Continental GTC V8 uit Duitsland heeft Das Import een alarmsysteem en voertuigvolgsysteem (alarmklasse 5) ingebouwd.
Uitrusting:
Model 2013 New Continental GTC V8
Build Country GERMAN FEDERAL REPUBLIC
Exterior Colours
Main Paint – Thunder (14 A0A0)
Interior Colours
Main Hide – Brunel (MHD SE)
Secondary Hide – Brunel (SHD SE)
Seat Belts – Match to Secondary Hide (SBT SH)
Roof – Blue (RFF DE)
Roof Interior – Blue (RFI JI)
Contrast Stitching – Linen (STC LN) Cost Option
Emblem Stitching – Linen (EMB LN)
Carpets – Match to Secondary Hide (CRP SH)
Boot Carpet – Beluga (BCP BB)
Front Armrest – Match to Secondary Hide (ARF SH)
Front Console Outer – Match to Secondary Hide (CON SH)
Gear Lever – Match to Secondary Hide (AZL SH)
Steering Column Cowl – Match to Secondary Hide (SCC SH)
Waistrail – Match to Secondary Hide (WCR SH)
Cantrail – Match to Secondary Hide (CAN SH)
Items
With Emblem Stitching (YE1 YE1) Cost Option
Interior Colour Split (7) (Y17 Y17)
Body Exterior
Acoustic Windscreen (WSS 4GF)
Body-Coloured Exterior Mirror Housings (BBO 6FB)
Bright Chrome Fittings To Windows / Doors (ZIE 4ZB)
Brightwork Strip To Side (SSL 4B1)
Bumpers With Black Matrix Style Grille (STF 2JN)
Canvas Convertible Top, Operated Electrically (DEI 3FN)
Electrically Operated Door Mirrors With Heating, Power Folding & Memory
Function
(ASE 6XL)
Front Licence Plate Bracket, Euro Style Recess (KZV 6W5)
IR Barrier Glass To Side And Rear Windows (SSH 4KS)
Left Exterior Mirror, Convex (ASL 5SJ)
Narrow Fuel Filler Neck (EBB 2G1)
Painted Radiator Shell With Black Gloss Matrix Style Grille (KUG 6KD)
Quad Exhaust Finishers (AER 0P2)
Rear Licence Plate Bracket – Standard (KZH 6P8)
Rear Light Cluster, Amber Indicator Lens (SBR 8SK)
Right Exterior Mirror, Convex – ROW (ASR 5RQ)
Standard Bumpers, 4 Kmh (SFS 2K0)
Standard Fuel Filler Cap (TDA 2W3)
Body Interior
3 Point, Body-Mounted, Front Seat Belts (RSV 3QC)
3-Point, Outer Rear Seat Belts (SHA 3ZV)
Cloth Roof Lining (HIM 6NQ)
Dark Fiddleback Eucalyptus (EIH 7TE)
Fluted Hide Seats (SIB N5M)
Hide Trimmed Gear Lever (SAG 6Q2)
Hide Trimmed LH Sunvisor, With Vanity Mirror, Cover and Light (MSL 4SY)
Hide Trimmed RH Sunvisor, With Vanity Mirror, Cover and Light (MSR 4TY)
Integral Front Headrests (KOV 5ZF)
Integral Rear Headrests (KOH 3Q3)
Lower ISOFIX Mounting Only (ZKV 3B0)
Plain Hide Door & Rear Quarter Inserts (TSV 4AD)
Short Centre Console with Single Front Armrest (MIK 3D2)
Single Front Armrest (ALV 4S4)
Single Tone, 3-Spoke, Hide Trimmed Steering Wheel (LRA 1MD)
Standard Overmats To Front (ZFM 0TS)
Standard Pedal Cluster (FHW VF0)
Storage Case to Centre Console (ALS 7N2) Cost Option
Treadplate With Bentley Logo (EIL 7M3)
Two Separate Fixed Rear Seats (HIS 5KU)
Without Child Seat Anchor, Front Seats (KSI 3G0)
Without Massage Seats / Seat Ventilation (KMS 4D0)
Without Rear Armrest (MAL 6D0)
Without Ski Hatch (DLS 3X0)
Electrical
"Keyless Entry" Remote Control, With Safe Locking And Start/Stop Button (TKV 4F2)
Alternator 190A (GEN 8GH)
Antenna For Phone/GPS – ROW (ANT 8ZP)
Automatic Headlight-Dynamic Range Adjustment (LWR 8Q3)
Automatic Low Beam, Daytime Running Lights (FLS 8K1)
Backrest Release For Front Seats With "Easy Entry" Function (LER 3H9)
Battery 280A (51Ah) And Battery 520 A (92 Ah) (BAT J2Y)
Battery Charger (European Adaptor) (BLG KB2)
Bi-Function Headlight With Gas Discharge Lamp (ROW) (HSW 8BP)
Bluetooth Telephone System – Without Privacy Handset (VTV 9W4)
CCS Controls (BED 4LK)
Carrier Frequency 433.92 MHz – 434.42 MHz (TRF 5D1)
Central Control Unit, Front (ZAB QW1)
Centre High-Mounted Stop Light – Standard Resistance (HBL 8R1)
Cruise Control System (CCS) (GRA 8T1)
Driver & Front Passenger Airbag With Front Passenger Airbag Deactivation (AIB 4UF)
Electronic Air Conditioning – 3 Zone System (HKA 9AK)
Electronic Stabilization Program (ESP), With Drive Away Assist (DAA) (BRS 1AT)
Front & Rear Seat Heaters, Separately Controlled (SIH 4A3)
Front Seats, Electrical Adjustment 14 Way, 3 Memory Function (SIE 3L5)
Headlight Washer System (SWR 8X1)
IPod Interface Linked to Infotainment System (ESS UF1)
Instrument Panel, Km/h, Celsius (INS U5A)
Interior Rear View Mirror, Automatic Dimming (IRS 4L6)
Manual Boot Opening and Closing (SDH 4E8)
Navigation System With Colour Screen – ROW (NAV 7Q1)
Park Distance Control, Front & Rear (EPH 7X2)
Power Adjustable Lumbar Support To FrontSeats (LOR 7P1)
Power Latching to All Doors (EST GZ2)
Power Windows, One Shot Open, Anti Trap Close, Comfort Operation (FEH 4R4)
Radio/Navigation System – Google Maps & POI Fitted (RAO 8YY)
Rear Fog Light, Centrally Mounted (NEL 8TB)
Seat Belt Warning Light, With Acoustic Warning (SGK 9P3)
Side & Thorax Airbags, Front (SAB 4X1)
Side Marker Lights In Exterior Rear View Mirror (SLE 8F2)
Standard Alarm System (EDW 7AP)
Standard Audio System (LSE 9VP)
Steering Column, Axially and Vertically Adjustable, With Memory System and
Easy Exit Function
(LSS 2C4)
Telephone Voice Control (SPR QH7)
Tyre Pressure Monitoring Frequency – 433 MHz (RDK 7K3)
Windscreen Wipers With Rain Sensor (SWS 8N3)
Without Park Heater (ZUH 9M0)
Without Remote Control Garage Door / Electronic Gate Opener (GRT VC0)
Without TV Tuner (TVE QV0)
Without Valet Key (SLR 8QD)
Handbooks
DVD (Europe-West) (CDR 7RT)
Information Kit In German (BTA 0VC)
Non Colour Items
Colour Specification (Dealer Launch Only) (P2E P2E) Cost Option
Plates and Labels
Build Country – Germany (ZDE ZDE)
Special Identification Plate – EC (TYP 1EX)
Special Plates / Stickers (ROW) (SIZ 1QB)
Type Approval Germany (TPL B01)
Powertrain
20″ Five Spoke Alloy Wheels – Painted (RAD F26)
4-Corner Air Suspension With Electronic Shock Absorption Control (DAE 1BK)
8-Cylinder Gasoline Engine 4.0 L Unit 079.E (GMO TV7)
8-Cylinder Gasoline Engine 4.0 l/368 kW Biturbo, FSI, Homogeneous Base
Engine is TV7
(MOT DH8)
Antifreeze up to -35 Celsius, Tolerance up to -40 Celcius (FRO 1C2)
Cast Iron Front Disc Brakes, 405x36mm, Vented (BAV 1LL)
Cast Iron Rear Disc Brakes, 335x22mm, Vented (BAH 1KK)
Dynamic Front Shock Absorption (DFV G02)
Eight-Speed Automatic Transmission For Four-Wheel Drive Vehicle (GSP G1G)
Emissions Concept – EU5 (AGM 7MG)
First Aid Kit & Warning Triangle (VBK 1T3)
Four Wheel Drive (ATA 1X1)
Fuel Safety System with Tyre Burst Shield (AKB 1E8)
Fuel System for Turbo Gasoline Engine (KRS 0F4)
Fuel Tank, Capacity 90 Ltr (KBV 0M6)
Left-Hand Drive (LEA L0L)
Lockable Wheel Bolts (ABR 1PC)
Pirelli Tyres (REL V0D)
Space-Saving Spare Wheel (RER 1G5) Cost Option
Speed-Related Variable Steering Assist (Servotronic) (LEN 1N3)
Standard Engine Cooling System (MKU 8Z0)
Tiptronic Gearshift (GES 0G7)
Tool Kit & Jack (BOW 1S1)
Tyres, 275/40 ZR 20, 106Y, Reduced Rolling Resistance (REI H0H)
Op de pagina import autos vindt u meer rekenvoorbeelden van uit Duitsland ingevoerde auto's. 
Wilt u ook een Bentley invoeren uit Duitsland?
Wanneer u een Bentley Continental of een andere auto uit Duitsland wilt invoeren zal u waarschijnlijk eerst de totale importkosten willen weten. Wij helpen u hier graag mee op weg.
GRATIS BPM BEREKENING
STUUR ONS EEN ADVERTENTIELINK VOOR EEN VRIJBLIJVEND KOSTENOVERZICHT

BPM BEREKENING + OVERIGE KOSTEN

Onze dienstverlening voor het importeren van uw auto
Onderstaand vindt u een overzicht van onze meest afgenomen dienstverlening voor het importeren van een auto uit Duitsland.
Diensten / prijsopbouw:

Auto import service

Basis
importpakket

Meer info

Auto import service

Premium
importpakket

Meer info

Auto import service

Prepium plus
importpakket

Meer info

Auto invoeren RDW

200,00 ex. BTW

RDW leges, recycling en tenaamstelling

139,05 ex. BTW

BPM aangifte

60,00 ex. BTW

Luxe kentekenplaten met opzetletters

39,50 ex. BTW

Basis handwasbeurt

30,00 ex. BTW

Stallingskosten

40,00 ex. BTW

All-risk verzekering voor het rijrisico

25,00 ex. BTW

Aanvullende all-risk verzekering

75,00 ex. BTW

optioneel

Aankoopafwikkeling en nazorg

150,00 ex. BTW

Transport

550,00 ex. BTW

Aankomstcheck op 15 punten

40,00 ex. BTW

Aankomstcheck op 30 punten

75,00 ex. BTW

Sneltransport

150,00 ex. BTW

optioneel

Professionele poetsbeurt

250,00 ex. BTW

optioneel

optioneel

Subtotaal excl. BTW

533,55

1348,55

1783,55

BTW 21%

91,44

262,59

353,94

Totaal incl. 21% BTW

624,99

1611,14

2137,49

Pakketvoordeel korting

-11,15

-137,50

Pakketprijs incl. 21% BTW

624,99

1599,99

1999,99